Classic Car and Street Rod Insurance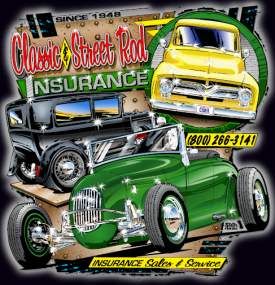 Our agency writes policies in Arizona, California, Colorado, Nevada, Oregon, Utah, and Washington.
We have programs for all types of collector cars including: Street Rods, Customs, Antiques, Classics, Collectibles and Exotics.
All of these policies are written on AGREED VALUE.
Our agency has the capacity to write large collections.
No appraisals required on cars under $150,000.
Want classic car insurance with a difference?
Classic collector's cars always provoke that sense of special love and care as they have been preserved for such a long time, keeping them safe from any external or internal damage. And if you happen to be an avid classic car collector who has immense memories related to your classic car then you need to make doubly sure that your vehicle is covered at all times against unpredictable damage. What are the key reasons that you should insure with ISS classic car insurance?
Classic Auto:
Specialty vehicles need a specialty insurance program.
The premium for classic car insurance is generally less than the premium you pay for your daily use vehicle.
Vehicles are insured for agreed value. Your coverage level is a value you and we both agree upon for your vehicle plus inflation guard will provide additional protection.
Tailored mileage plans- choose the mileage plan that works best for you: 1,000, 3,000, 6,000 or unlimited, unused mileage rolls over from year to year.
Nationwide Roadside Assistance- While the base policy includes $75 of towing reimbursement coverage, the Nationwide Roadside Assistance Program is also available which provides 24-hour toll free access to flat-bed towing and roadside assistance as well as increasing covered amount to $200.
Automatic Coverage for New Purchases- If you find that perfect vehicle, or the deal of a lifetime, don't hesitate to buy it. For 30 days you have the same Liability limits and up to $50,000 Physical Damage coverage on any new purchase.
Added Value- Included with each policy is $2,000 for spare parts, $600 for trip interruption and $750 for pet coverage.
Expertise Claims- A dedicated Collector Vehicle claims staff handles only Collector Vehicle Claims and have a full understanding of the nuances involved with bringing your car back to its pre-loss condition.